Chocolate Fountains of Nebraska(NE) offers local and nationwide chocolate fountain rentals, chocolate fountains sales and superior customer service.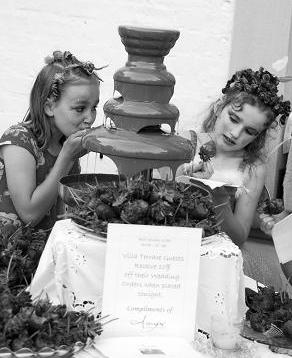 Our Chocolate Fountain Rental is perfect for dipping skewers of strawberries, bananas, and whatever your imagination comes up with. The Chocolate Fountain rental price is $399.99 per night plus shipping, and after it has been used you clean it and send it back. If the fountain is to be used locally (Central Nebraska) the price includes #15 chocolate, delivery, and Chocolate Fountain Attendant for 3 hours! Call us to ask about our special Chocolate Fountain rental introductory offer prices - limited time only!
The Chocolate Fountain is the ULTIMATE CHOCOLATE EXPERIENCE!